TheraVine ANTI-WRINKLE EYE SERUM
A highly concentrated anti-wrinkle serum which reduces the appearance of deep lines around the eye area.
This advanced eye serum will help treat, firm and tone the delicate eye area. Containing Matrixyl® Micro-collagen, it will visibly help improve deep lines around the eye and upper lip area ensuring a more youthful looking appearance.
Directions for use:
Apply around eye area under eye cream. Pat gently into the skin.
Ingredients:
White Wine Extract, Palmitoyl Pentapeptide-3 (Collagen).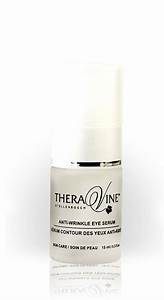 For only R366.00
TheraVine HYDRAVINE™ POLYPHENOL FACE SERUM
An intensive treatment fluid which helps moisturise the skin. Skin feels revitalised and fresh.
What you need to know:
A revolutionary face treatment serum complimented with super hydrating botanical actives which help restore and preserve adequate moisture levels not only superficially but also within the deeper layers of the skin ensuring immediate and long term hydration.
Directions for use:
Apply to the face morning and/or evening, throughout the year or as a time specific treatment. Apply a few drops to the face, neck and décolleté using light, sweeping movements.
Ingredients:
Tara Tree Extract, Grapeseed Extract, Rooibos Leaf Extract, Vitamin A and E.
For only R531.00
TheraVine MENS ACTIVE DAILY FACE WASH
A tri-functional foaming gel to gently cleanse the skin. While its freshness will leave the complexion radiant and the skin toned, ridding the skin of excess sebum will leave it visibly revived.
What you need to know:
This product can also act as both a shaving foam and hair shampoo while remaining mild enough to use twice daily.
Directions for use:
Use morning and evening
For only R316.00
TheraVine MEN – ENERGISING EXFOLIATING GEL
A highly effective deep cleansing gel which effectively sloughs off dead skin cells, leaving the skin glowing with freshness and feeling energised.
Exfoliating twice weekly will assist in smoothing away imperfections and ridding the skin of unwanted impurities.
Directions for use:
Use 2-3 times a week in the morning or evening, before shaving, to deep cleanse the skin.
Ingredients:
Resurfacing Enzymes (Gently dissolves keratin bonds), Fine Milled Grape Seeds, Ion-Moist, Swiss Grape Seed Procyanidins, Tocopherol
For only R343.00
TheraVine VITAVINE™ ANTI-WRINKLE SKIN BOOSTER
A highly concentrated serum which smoothes out the appearance of deep lines and wrinkles.
What you need to know:
A highly concentrated technologically advanced serum containing actives which help enhance collagen synthesis and inhibit melanin synthesis. It thus allows for an in-depth anti-wrinkle and skin lightening effect. Renowned to help give greater firmness and uniformity of tone and texture to the skin whilst ensuring instant and long term radiance.
Directions for use:
Apply under day or night creams. Pat gently into the skin.
Ingredients:
White Wine Extract, Vitamin C (Ascorbic Acid 2 G-Glucoside), Lemon Fruit Extract.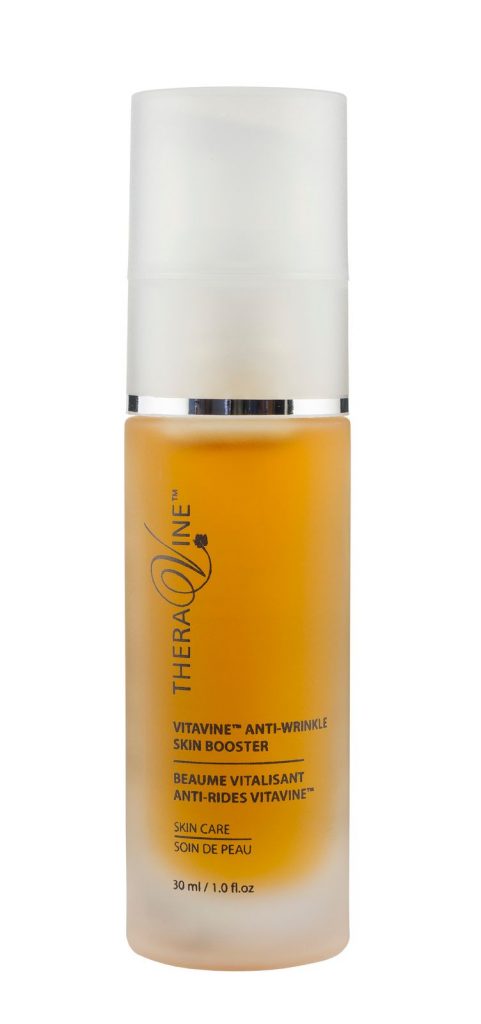 For only R415.80
TheraVine HAIR PROTEIN CREAM MASK
A thick, creamy textured mask used to treat and soften the hair.
What you need to know:
A deep, nourishing and hydrating treatment, enriched with therapeutic qualities of carefully selected essential oils, anti-oxidant rich grape ingredients and natural plant based actives which sooths irritable scalp, and strengthens and protects the hair whilst restoring vitality and manageability.
Directions for use:
Apply 20ml to hair. Best applied over the Hair Conditioning Oil as a full hair treatment. Can be left in for a number of hours. You can lie in a steam room or sauna to intensify the treatment. To remove, first apply Sauvignon Blanc Shampoo, work it into the hair and then begin to slowly add water creating lather, rinse and repeat.
Ingredients:
Panthenol, Grapeseed Oil, Vitamin E, Hydrolysed Wheat Protein, Jojoba Seed Oil, Cape Chamomile, Geranium.
For only R381.00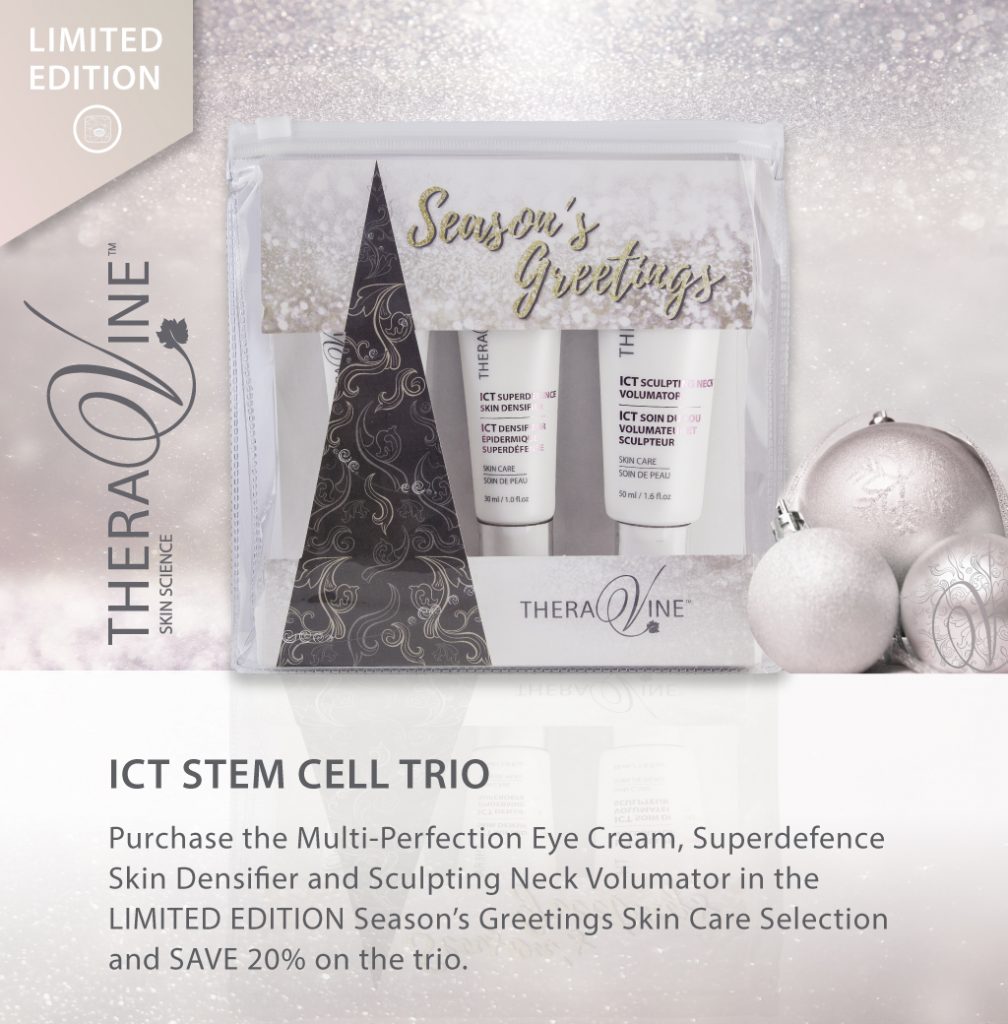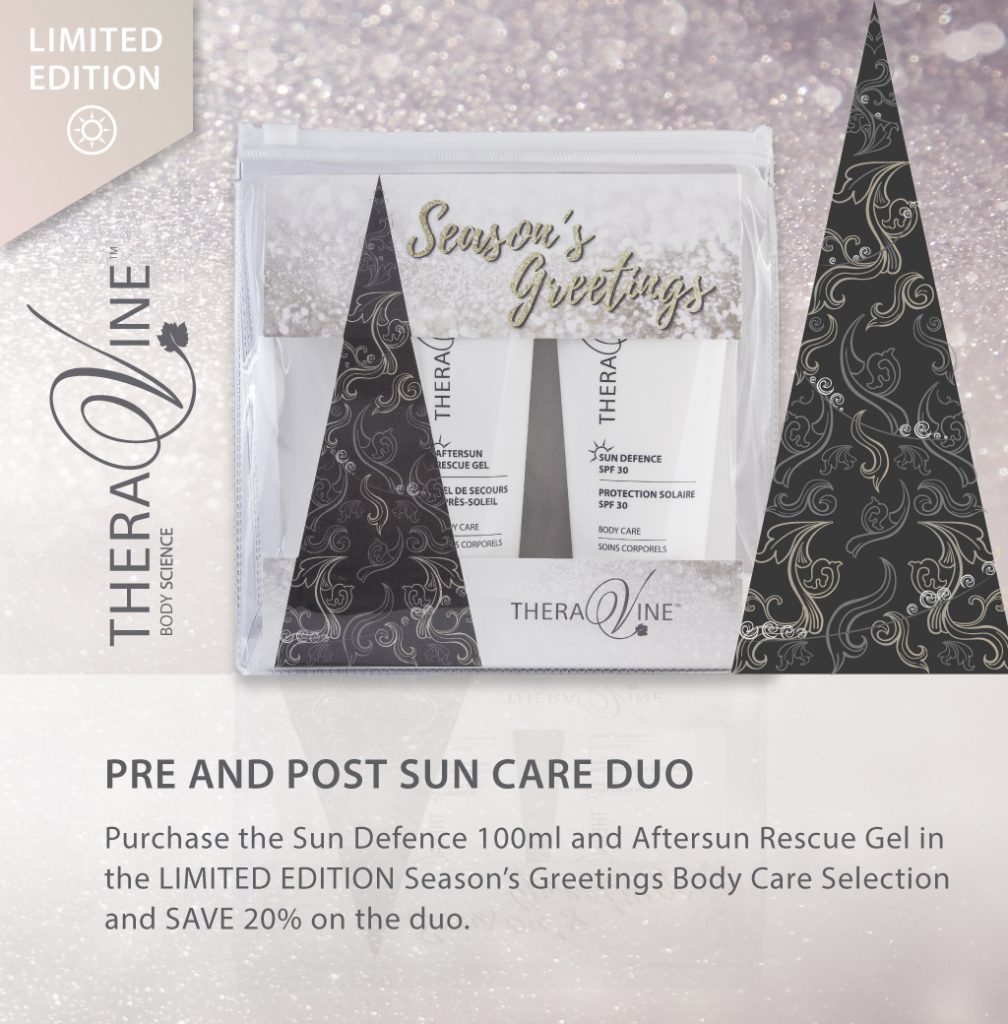 T663-3 – Limited Edition Christmas Skin Care Selection for only R1210. While Stocks Last. 
The selection includes the following 6 products:
100ml Cream Cleanser
100ml Balancing Toner
30ml Pinotage Exfoliating Enzyme
15ml Anti-Wrinkle Eye Serum
50ml VitaVine™ Booster Face Mask
50ml Sun Defence SPF30
Receive 20% Discount on an original Cleanser and Toner Combo Set – BETTER TOGETHER.
* While stocks last *

CREAM CLEANSER
250ml
R325.00
GENTLE FOAMING CLEANSER
250ml
R325.00
HYDRAVINE™ CLEANSER
250ml
R325.00
BALANCING TONER
250ml
R325.00
HYDRAVINE™ TONER
250ml
R325.00
The following items qualify for a 20% Christmas Discount. 
* While stocks last *

ULTRAVINE™ PRO-FIRMING SERUM
30ml
 R 717,00

ULTRAVINE ADVANCE – RNS CONCENTRATE
15ml
 R  413,00

CABERNET BODY LOTION
250ml
 R 413,00

RELAXING PINOTAGE BODY OIL
100ml
 R  437,00

MUSCULAVINE™ MASSAGE OIL
100ml
 R 437,00

MOISTURISING PINOTAGE HAND OIL
50ml
 R 302,00

LUXURIOUS HAND CREAM
50ml
 R  248,00

7-IN-1 MIRACLE ELIXIR 11ml
11ml
 R 200,00

MELANOVINE™ BRIGHTENING CONDITIONER
250ml
 R 384,00

MENS ACTIVE DAILY SPRITZER
250ml
 R 312,00

AGE-DEFYING AHA RESURFACING PEEL
100ml
 R 340,00

HYDRA-COOL EYE GEL
20ml
 R 169,00